A Personal Banker on Your Phone
Mobile personal banking services may have what it takes to bridge the gap between providing personal service and the high cost of extensive branch staffing, according to a recent survey by Phoenix Synergistics entitled, The New Digital Bank Branch. Financial institutions have been experimenting with innovative new programs for banking activities such as a mobile personal banking service that assigns customers with a personal banker they can contact via a mobile banking app with the capability of performing any branch activity – with the exception of providing cash.  Overall, nearly half of consumers say they would be likely to use this type of mobile personal banker service, with more than one-fifth being very likely.  Response is particularly strong among Millennials.  Among those who indicate the likelihood of using a mobile personal banker, most (78%) would be likely to open accounts using the service and a majority (54%) believe they would visit branches less as a result of their usage.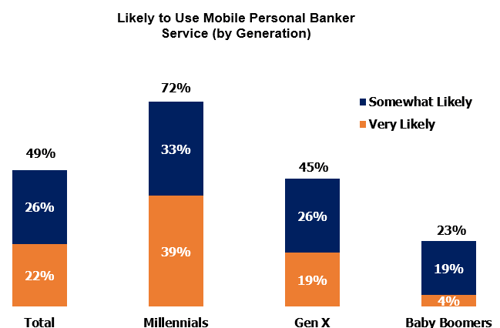 Genie M. Driskill, COO of Phoenix Synergistics, stated, "Financial institutions across the country have been struggling with providing an excellent customer experience while confronting the need to reduce the cost of their immense branch networks.  Having a personal banker – who may located anywhere – available to customers by mobile phone may help FIs with this dilemma.  Our survey reveals there is notable response among consumers overall and quite strong response among Millennials who tend to be frequent branch users.  Findings also show that mobile personal banking services have the potential to aid in sales and reducing branch traffic.  This new service represents the perfect blend between high-touch contact and high-tech technology."
These are among the findings from Phoenix Synergistics study, The New Digital Bank Branch, featuring 1,500 internet interviews with consumers age 18 or older.  This study examines consumer behavior related to branches, as well as their reaction to innovative branch designs, self-service automation, and staff contact. For more information on this report click here.
Phoenix Synergistics
 is the leading provider of multisponsor marketing research for the financial services industry.  For information, Genie M. Driskill, COO/Director-Research, or William H. McCracken, CEO, Phoenix Synergistics, 3091 Governors Lake Dr., Suite 520, Norcross, GA, 30071.  Tel 
(800) 423-4229
 or 
(404) 237-3373
 Fax 
(404) 237-6470
   Website http://info.phoenixmi.com/syg-home
Back to learn