Back to Explore
'Tis the Season for Buy-Now, Pay-Later (BNPL)
November 22, 2021
The 2021 winter holidays may be shaping up as the season of "buy-now, pay-later" (BNPL) payment options. BNPL services are already popular, and they continue to gain traction in the financial-services payment market. Fintech companies and traditional credit card issuers offer a variety of options to consumers for making purchases. Recent research from Phoenix Synergistics (a unit of Phoenix Marketing International) reveals that four in ten consumers have used some type of BNPL payment option. This is just one of the findings from Fintech: Competitors or Collaborators?, a Phoenix Synergistics study based on a nationwide survey of 2,000 consumers age 18 and older.
Younger consumers are more likely to report they have ever used BNPL to make a purchase at a store or through a retailer's website or mobile app. Incidence is highest among Gen Z consumers, with two-thirds indicating usage. Among Millennials, six in ten are users. Incidence of usage among the other generations declines sharply. More than one-third of consumers with household income less than $100K report using BNPL, and usage spikes among those with household income of $100K or more. BNPL users are as likely to report using the service online as they are to say they have used it in a physical store. Eight in ten users believe that BNPL is a very/somewhat valuable service.
What is the relationship between BNPL and credit cards? Respondents who do not have credit cards are more likely than cardholders to have used BNPL, suggesting that the service may be filling the credit gap for card non-holders.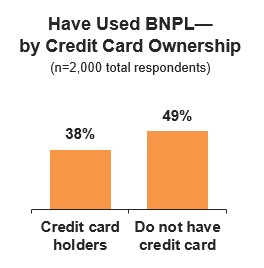 Bill McCracken, president of Phoenix Synergistics, stated, "Buy-now, pay-later services are an interesting phenomenon in the payments market. Merchants are jumping on the bandwagon and offering these services from a variety of new players in the market. Now, traditional credit card issuers are entering the market with their versions. The service is very popular with consumers, particularly in the younger generations. There is widespread appeal, but there are also critics of these services. Concerns about delinquencies and defaults are often voiced. The relationship with credit cards is an issue to be considered. It is anticipated that BNPL usage will increase substantially in the 2021 holiday shopping season, given the popularity of the product as well as concerns about inflated costs of goods and services. Payments providers—including traditional credit card issuers and the new BNPL providers—need to monitor usage and developments on this payments frontier."
These are among the findings from a recent Phoenix Synergistics report, Fintech: Competitors or Collaborators?, which features responses from 2,000 online interviews with consumers age 18 and older.
Phoenix Synergistics, a unit of Phoenix Marketing International, is the leading provider of multi-sponsor marketing research for the financial services industry. For more information, contact Bill McCracken, president, Phoenix Synergistics, email bill.mccracken@phoenixmi.com
For More Information on This Report Click Here
Back to Explore