Back to Explore
Internet-Only Banks Make Gains in Deposit-Acquisition Wars
October 28, 2021
The recent environment for deposit acquisition and retention has been extremely unusual. For the first time in a number of years, the personal savings rate of consumers increased. Some industry analysts described the situation as a "coronavirus deposit bonanza." Consumer spending declined during the first phases of the pandemic, and consumers parked funds in deposit accounts while waiting for the right time to spend and/or make changes to investments. Recent research by Phoenix Synergistics revealed that a majority of consumers made changes to their checking, savings, or investment accounts in the past year. While no specific activities were dominant, these moves resulted in changes in net flows for various types of financial institutions. These are among the findings from Competing for Deposits: Acquisition and Retention Strategies, a recent report from Phoenix Synergistics (a unit of Phoenix Marketing International). A highlight of the study is a nationwide, online survey of 2,000 consumers ages 18 or older.
A small majority (51%) of consumers indicate that they made major changes in their savings and investment accounts in the past year (up from the 20% who reported doing so in a 2018 Phoenix Synergistics study). Fairly equal numbers moved funds in secure deposit accounts from one institution to another or moved funds from conservative accounts (e.g., savings accounts, money market deposit accounts, or CDs) to checking accounts to use for household expenses. Younger consumers are more likely to have moved funds from conservative accounts to stocks or mutual funds and to have moved money invested in stocks and mutual funds from one institution to another. Consumers who made major changes to their accounts in the past year identified a variety of factors that motivated these moves, including seeking better returns or interest rates, uncertainty about the economy, advisors' recommendations, and pandemic-related economic pressures.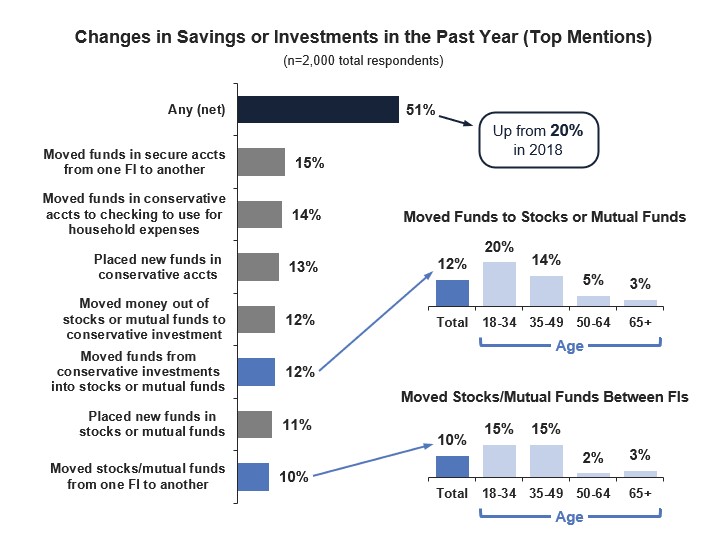 Those who made changes to accounts were questioned about the types of institutions they moved funds from and the types they moved funds to. Banks and savings institutions were the top institutions for both outflows and inflows. However, the number of consumers moving funds out of banks or savings institutions was greater than the total number moving funds in, which resulted in negative net movement. Credit unions and mutual fund companies experienced net outflows. Internet-only banks (without café-style branches) were the only type of institution experiencing net inflows. In general, younger consumers were more likely to report moving funds among the various types of institutions.
Bill McCracken, president of Phoenix Synergistics, stated, "While the overall incidence of consumers that engaged in major changes in savings and investments has increased, no one type of activity is dominant. Consumers are moving money to and from a variety of accounts and institutions as they emerge from the early stages of the pandemic. However, when money movement has occurred, it has resulted in modest declines for traditional depository institutions, including banks, savings institutions, and credit unions. The winners, in terms of positive net flows, are internet-only financial institutions—a growing competitive force for branch-based providers to contend with. Traditional FIs must meet the challenge across all relationship aspects—including pricing, channels, and customer service—and must proactively communicate with and educate consumers about product changes and improvements. Deposit acquisition and retention is the lifeblood of branch-based depository institutions."
These are among the findings from a recent Phoenix Synergistics report, Competing for Deposits: Acquisition and Retention Strategies, which features 2,000 online interviews with consumers ages 18 or older.
Phoenix Synergistics, a unit of Phoenix Marketing International, is the leading provider of multi-sponsor marketing research for the financial services industry. For more information, contact Bill McCracken, president, Phoenix Synergistics, email bill.mccracken@phoenixmi.com
Back to Explore