Back to Explore
Texas Oil Boom: "The Biggest Income Opportunity in America"
This article was featured in Income Investors
By Robert Baillieul, B.Comm. | March 14, 2019
Investors Earning 17%+ Yields From Texas Oil Boom
McMullen County used to be a sleepy rural town just a few short years ago. But thanks to a recent Texas oil boom, the community has become the richest in the country.
People in this tiny town are making fortunes.
Kimberly Kay Kreider-Dusek's family have ranched nearby for generations. She started collecting a "nice amount of money" in oil and gas royalties from her property. The extra cash has allowed her to buy a nice flat in nearby San Antonio and a condo on the Gulf of Mexico. (Source: "How this tiny county in Texas became the richest in America," CNBC, May 22, 2017.)
And she's not alone. The number of people in Texas reporting net worths of $1.0 million or more jumped 10% last year, according to research firm Phoenix Marketing International. And the same story has played out in towns and cities all across the country. (Source: "Texas sees 10 percent spike in millionaire households in one year, study says," CultureMap San Antonio, March 1, 2019.)
But you don't need to move to the "Lone Star State" to take advantage of this opportunity. Investors nationwide have started earning yields ranging from 17% to as high as 23% from the recent Texas oil boom. And analysts project those payments to surge even higher over the coming years.
Where Barbers Make $180,000
Texas is ground zero for America's "shale boom."
In recent years, new techniques such as horizontal drilling and hydraulic fracturing have unlocked vast swaths of oil and gas. This has created a new energy boom in dozens of places across the state.
Thousands of workers have flocked to the region to strike it rich. Today, it's not unusual for high school dropouts to earn six-figure incomes. In Texas oil boom towns like Midland, Odessa, and Tilden, the unemployment rate has dropped below two percent.
Pody's BBQ, a popular brisket joint in Pecos, has struggled to recruit employees. Energy companies pay $6,000 a night just to rent a table at The Shack in the Back bar outside of Odessa. Barbers can easily pull in $180,000 a year. As one shop owner said, "It is flooded with oilfield workers galore, and these guys tip well." (Source: "In This Oil Boom Town, Even a Barber Can Make $180,000," The Wall Street Journal, March 1, 2019.)
Meanwhile, the influx of workers has created a massive housing shortage. When landlords put a new apartment on the market, they're bombarded by 20 applicants or more. A one-bedroom apartment can rent for as much as $3,000 a month.
The median value for a home in Midland has increased 30% over the past year. Because vacant homes and apartments have become so rare, some workers have resorted to sleeping in their cars. Soaring house prices have forced the city to build affordable housing for teachers and other employees, who have been priced out of the local market. (Source: Ibid.)
Investors have made a fortune too. Tiny energy stocks have delivered triple-digit gains for their shareholders after striking oil well gushers. Analysts foresee a wave of millionaires created in the coming buyout boom as supermajors like Exxon Mobil Corporation (NYSE:XOM) and Chevron Corporation (NYSE:CVX) boost their presence in the region.
One of the biggest winners: Texas Pacific Land Trust (NYSE:TPL). The company owns vast tracks of land across the state, which have seen their values soar in recent years. Since 2016, shares have delivered a 560% total return for investors.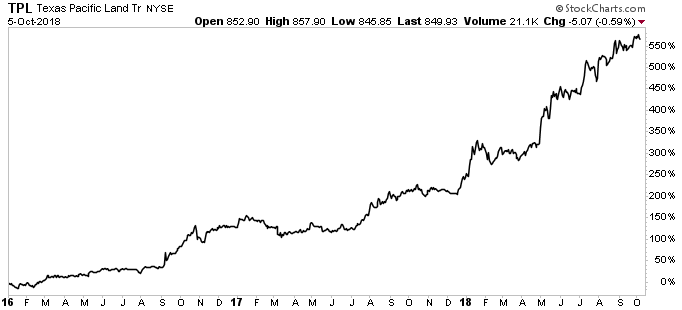 Chart courtesy of StockCharts.com
But you don't have to bet the farm to strike it rich in this Texas oil boom. Many people have gone broke searching for the next oil well gusher. In fact, the investors making the biggest fortunes have done something totally different.
Companies Paying Double-Digit Yields Here
Regular readers have heard me espouse the virtues of selling "picks and shovels" before.
In a commodity boom, the biggest money isn't made by the people getting raw goods out of the ground. Instead, savvy business people focus instead on selling tools, products, and services to the rest of the industry. This represents safer—and often more profitable—opportuniies.
Take Hi-Crush Partners LP (NYSE:HCLP), for instance. The partnership's Kermit facility in West Texas produces over three million tons of sand—an essential supply for shale drilling operations. Because Hi-Cush sits right in the middle of the state's oil boom, the company doesn't have to waste money shipping orders to customers. And thanks to the soaring price of sand, the trust pays a dividend yield of 23%.
Infrastructure remains the biggest challenge. Oil production has outstripped existing pipeline capacity. This has allowed owners to jack up tolls on existing routes, resulting in jaw-dropping yields for shareholders.
| | | |
| --- | --- | --- |
| Company | Industry | Yield |
| Hi-Crush Partners LP | Sand |  22.8% |
| Enterprise Products Partners L.P. | Pipelines |  6.1% |
| Energy Transfer Partners LP | Pipelines |  8.1% |
| Targa Resources Corp | Pipelines |  8.9% |
| Halliburton Co. | Oil field services |  2.6% |
| Schlumberger Ltd. | Oil field services |  4.7% |
Source: Yahoo! Finance
Those payouts could soar over the coming years as new routes come online.
Last month, Enterprise Products Partners L.P. (NYSE:EPD) completed construction of its Midland-to-ECHO crude pipeline. The project, which has a capacity of 620,000 barrels per day, will ship crude from West Texas to the partnership's energy terminal in Houston. (Source: "Texas pipeline expansion bolsters Midland crude pricing," Reuters, March 8, 2019.)
Smart money investors have taken notice. As I highlighted in a column earlier this year, billionaire energy investor T. Boone Pickens has quietly invested millions into pipeline partnerships. Other hedge fund managers, including Ken Griffin, Israel Englander, and Steve Cohen, have also plowed billions into Texas' energy boom.
People on the Sidelines Now Will Kick Themselves in 10 Years
But while investors have already made fortunes, Texas' oil boom could be just getting started.
Earlier this month, analysts at IHS Markit Ltd (NASDAQ:INFO) predicted crude output from the state's biggest shale field could double over the next four years. Bank of America Corp (NYSE:BAC) projects pipeline capacity will more than triple by 2021. (Source: "Analysts: Permian Oil Output Set To Double By 2023," OilPrice.com, March 11, 2019.)
Personally, those incredible predictions still look too conservative. Analysts have consistently underestimated shale potential as new technologies allow drillers to produce even more crude. Even if oil prices plunge, companies can still turn a profit at rates as low as $30.00 per barrel.
Ultimately, this Texas oil boom represents the biggest income opportunity in the country today. Anyone sitting on the sidelines will be kicking themselves in 10 years.
Back to Explore